Home » Animal Face Photo App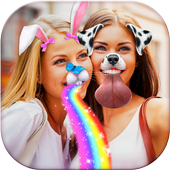 The Description Of Animal Face Photo App
Join all the image editing fans in placing, for example, ''funny cat faces'' on pics and making funny face photo montages using ''animal head masks''! Try out the best ''change your face'' performance and express your creativity using this cool photo editor!
Seize this amazing opportunity to obtain ツ Animal Face Photo App ツ and make the best use of our ''animal face changer'' effects! This ''animal face camera'' allows you to place animal head on selfies instead of your own and make a great virtual makeover. Make a funny ''photo montage'' using this''face camera editor'' and show everyone how good you are in picture editing by creating face swap effect on pics. Choose lion or a tiger head or a cute animal face, insert your selfie and place animal stickers. It will take you just a few seconds to switch face on your best selfies and place an angry lion, tiger or a cute bird face instead of your own and amaze everyone with your pic editing skills! Our newest face changing apps for smartphones provide you with various ''stickers for pictures'' which will help you make a one of a kind funny face change you can share on all social networks. Don't forget to smile, put a sticker on your face and share it with your friends!

Add ''face stickers'' featuring dangerous animals, cute cat or make a doggy face and enjoy all the image editing! Don't forget to learn how to "combine faces".
ツ Download ツ Animal Face Photo App ツ and enjoy in face changing!
ツ Play with the chosen "animal face sticker" with the help of which you can change face on your selfies!
ツ Choose your favorite deco stickers and make a face swap – cute cat, doggy face, fierce lion and many more!
ツ Zoom in and out, rotate, adjust, and swap faces instantly!
ツ Save your funny photo montage to your gallery or set them as wallpaper background!
ツ Share your virtual makeover on social network and let everyone see your "photo editing" techniques;
ツ Don't miss the opportunity to obtain this amazing face changing app with ''photo stickers'' completely free of charge!

Perform a funny face swap in a blink of an eye using tiger face, monkey, dog or ''face of a cat'' and adjust the color of your animal sticker to match your skin color.

Make your friends laugh by sending them your edited pictures with animal stickers or cartoon animal face or make a collage installing some of our other face morphing apps and games free. Add various special effects and color filters to additionally enhance your photo montage. Go on and download ツ Animal Face Photo App ツ and don't miss the chance to obtain this fun image editor instantly. Download our image editor free and edit pictures using stickers with animal parts – cute cats ears, dogs mouth, wild jungle lions details and so much more! Create the best face swaps that will make everyone laugh when you post them on social media and share with your followers! Try out our brand new collection of animal parts you can place on your best selfies – we offer you monkey, dog, lion face and many more – you choose!

Use the ''best free photo editor'' and choose one of the wild animals you'd like to be! Your selfies will soon turn into awesome photo art by adding bird face, rabbit ears or cute dog face.
Animal Face Photo App Tags
Animal Face Photo App Additional Information
Latest Version:

4.1

Publish Date:

2019-07-19

Requirement:

Android 4.1+
Post a comment below
There are no comments yet.
Authentication required
You must log in to post a comment.
Log in