Home » Sholawat Ceng ZamZam Lengkap 2019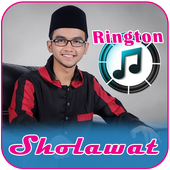 Sholawat Ceng ZamZam Lengkap 2019
The Description Of Sholawat Ceng ZamZam Lengkap 2019
Ceng Zamzam terlahir dengan nama lengkap Ahmad Zamzam Zainal Muttaqin. Kelahiran Garut, 5 Desember 1997 ini, biasa dipanggil Zamzam atau Azam.Ceng Zamzam diketahui bertempat tinggal di Garut, Jawa Barat. Selain dikenal sebagai hafidz, Ceng Zamzam juga aktif bermain sinetron dan mengeluarkan album shalawat.

Aplikasi Sholawat Ceng ZamZam Lengkap Full Album merupakan kumpulan berbagai mp3 sholawat nabi dan rosul yang indah untuk didengarkan oleh semua kalangan umat islam.

Fitur Sholawat Ceng ZamZam:
- 200 lebih sholawat mp3
- Up to date
- Offline (Download audio)
- Online (Streaming)
- Play Otomatis Selanjutnya
- Tandai Sebagai Favorit
- Tetap Berjalan bila layar mati
- Jadikan Nada Dering

Mari kawan-kawan umat islam kita bersholawat nabi agar mendapatkan syafaatnya di akhirat nantinya. Maka dari itu silahkan dicoba aplikasi Sholawat Ceng ZamZam Lengkap ini.

Jangan lupa berilah saran dan masukan untuk pengembangan aplikasi Sholawat Ceng ZamZam Lengkap selanjutnya agar menjadi lebih baik dan bermanfaat bagi para pendengar sholawat nabi dan rosul. Terimakasih

Disclaimer:
- Konten bersumber dari internet yang tersebar secara gratis
- Konten bukanlah milik developer
- Kesalahan penggunaan aplikasi adalah tanggung jawab pengguna
- Kami mohon maaf bila terdapat kesamaan konten, aplikasi ini hanya sebagai hiburan saja.
Sholawat Ceng ZamZam Lengkap 2019 Tags
Sholawat Ceng ZamZam Lengkap 2019 Additional Information
Latest Version:

1.0.1

Publish Date:

2019-09-29

Requirement:

Android 4.2+
Post a comment below
There are no comments yet.
Authentication required
You must log in to post a comment.
Log in